when was your last checkup?
your health is
your wealth
protect it at healthnet caribbean
The saying, "an ounce of prevention is worth a pound of cure" is especially true when applied to health care.
When you come to HealthNet for your annual exam, you are making an important decision to take responsibility for your health and overall quality of life.
Rather than treating a condition after it has progressed, preventive care focuses on preventing disease and maintaining proper health by incorporating a healthy lifestyle.
At HealthNet, we offer...
Regular health exams and tests can help find problems before they start. They also can help find problems early, when your chances for treatment and cure are better. By getting the right health services, screenings, and treatments, you are taking steps that help your chances for living a longer, healthier life.
Our general dentists practice all aspects of General Dentistry including diagnosis, restorative procedures,
prosthodontics and some oral surgery. They are dedicated to pursuing continuing education and providing the highest quality of dental care to the community.
Dental Services are available at our Couva, Tacarigua, Barataria and Maraval branches.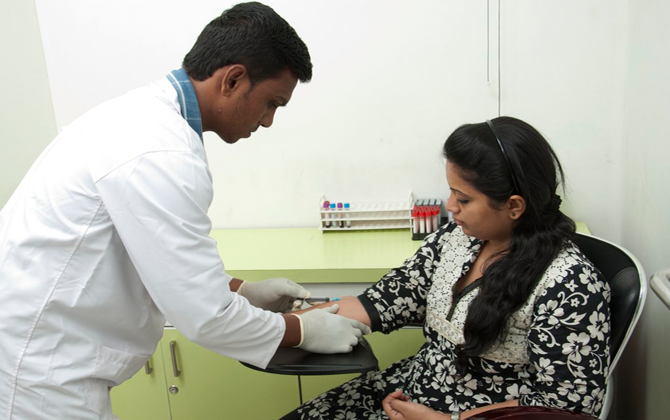 Diagnostic tests improve patient care, contribute to the protection of consumer health, and help to limit healthcare spending by finding potential problems sooner. For the purposes of diagnosing, monitoring, screening and prognosis, diagnostic tests are essential at every step.
Our sister company, Lab Medica offers high quality, clinically impactful pathology and laboratory diagnostic services combined with readily available consultation with experienced pathologists and laboratory scientists.
An ECG (electrocardiogram) is a test that measures the electrical activity of the heartbeat. 
An ECG gives two major kinds of information. First, by measuring time intervals on the ECG, a doctor can determine the electrical activity is normal or slow, fast or irregular. Second, by measuring the amount of electrical activity passing through the heart muscle, a cardiologist may be able to find out if parts of the heart are too large or are overworked.
Our practice uses state-of-the-art imaging systems, which provide unprecedented image quality for
medical diagnosis in a wide range of areas including abdominal, obstetrics and gynecology, vascular,
musculoskeletal and other soft tissue areas of the body.
Our Diagnostic Medical Personnel are highly skilled, demonstrating their professional competency by earning and maintaining registration with the Radiographer Board of Trinidad & Tobago.
Our doctors will be able to recommend preventative care steps and goals depending on your overall health, family history, gender and age.
We, at HealthNet, believe in personalized care and as such, can certainly build a package to suit your need and budget. 
Contact us today to build your personalized preventative package. 
For your reference, we have built some of our own Preventative Care Packages which you can choose from. With the purchase of any of our preventative packages you receive a FREE LIFETIME HealthNet Discount Card.  
Men's Health III – $1199
Full Medical & Dental Exam
Fasting Blood Glucose & Lipid Profile
Complete Blood Count
Kidney Test (Creatinine) 
Liver Tests (AST/ALT)
ECG
PSA
Women's Health I – $799
Full Medical & Dental Exam
Fasting Blood Glucose & Lipid Profile
Complete Blood Count
Kidney Test (Creatinine) 
Liver Tests (AST/ALT)
We Accept All Health Plans!